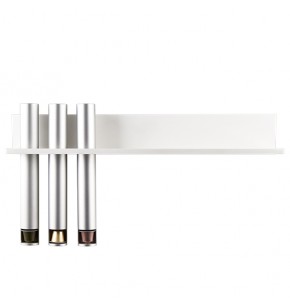 STRAIGHTS module shelves. Essential in any modern kitchen and bathroom

It comes in several designs, a dispensor for Nespresso capsules, knifes, spices, toothbrush and soap, makeup and books or iPad. Easy way for you to read your recipeies without you cooking recipes getting greasy, or the daily news in the morning at the bathroom while getting ready for job.

Available in Glacier White. Preorder for other colors and lenghts.
A sustainable solution in delicate Nordic design. Ready to use. ,,Lift off" bracket systemt. Enclosed in the package.
Measurements.: W:60 H:9 D:9 cm / Weight 2kg
Design by Architect MMA Lars Vejen // www.larsvejen.dk
STRAIGHTS 3x10 pcs Nespresso capsule dispensor shelf in Dupont™ Corian® and aluminum. An e..